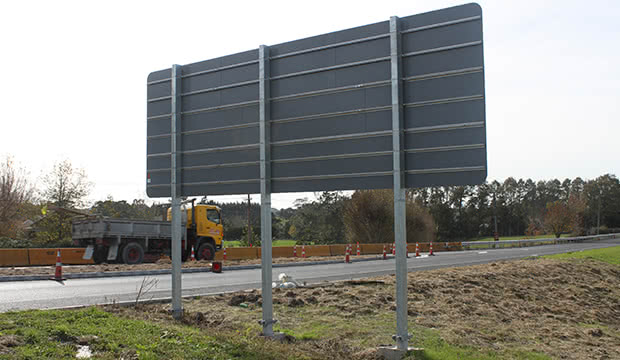 Necklen Breakaway Poles for multiple pole installations beside highways which are crash tested to US standard NCHRP350 TL3 preserving life and reducing the road toll. Features a unique fuse joint below sign and slip base at ground level. Simple to install foundation member of same construction as pole. Very easy pole installation of light weight to strength. Sign panel typically clamps to pole with our superior strength stainless steel sign clips-see price list. Special mountings can be included for local sign panel requirements. Leading highway pole used throughout NZ and Pacific Islands.
Calculator is provided for automatic pole selection based on your sign details, along with usage guide, engineers calcs etc. Please Signup or Login for access.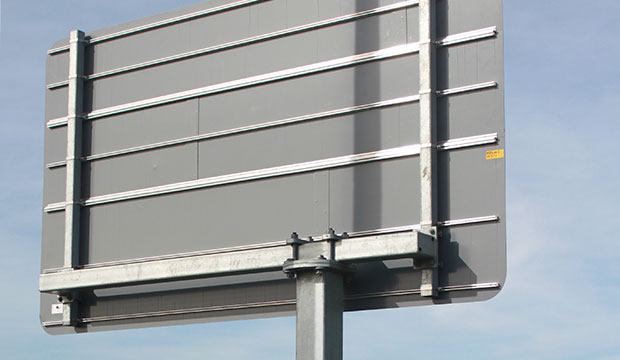 Monopole range of products utilise a single post where ground space makes multiple pole use impossible. Ideal for urban situations over footpaths. Suitable for under 70kmh zones or behind crash barriers on high speed highways. Available fixed or with patented rotate away head allowing sign to rotate on pole axis upon high vehicle contact caused by trucks mounting kerbs. Costly damage to structure and vehicle is avoided and sign can be returned to its original position. Sign still operates after impact until maintenance crew returns it to it's original position. The largest type 3H is for over highway use and utilises a tapered arm for appearance and least overhanging weight.
Calculator provided for automatic pole selection based on your sign details. email [email protected].