About Us
Superhighway sign poles were created in 1997 with excellent market uptake, with hundreds of sites in Auckland city being fitted with Superhighway Poles. Installation was made easy with the cast in footing requiring no further reinforcement and the relatively light pole.
In 2003 Geoff Necklen created the Superhighway Monopole which provided single post urban sign support, but with the special feature of a yielding sign head. A common problem at the time was impacting of the edge of urban signs by heavy vehicles, and the Monopole solved this. A patent was granted two years later. The Monopole is to be used in under 70km/hr areas and behind barriers in higher speed areas.
In 2010, after five years of development then official crash testing, the fully crash compliant Superhighway Breakaway type pole was released to meet the new requirement in NZ of compliance with NCHRP350 TL3, the US standard.
This quickly dominated the market due to its low cost and ease of installation, and continues to be the market leader five years later. Now called Necklen Breakaway Poles , the 80, 100 and 170 series all meet this international compliance standard.
Geoff Necklen - Director, Owner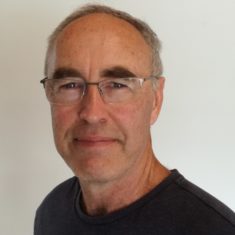 Geoff Necklen comes from a trade engineering background, having completed his apprenticeship in Fitting and Turning to advanced academic level, then further tertiary studies in engineering. Geoff has been the designer for, and operator of, Roadsign Supports and Necklen Engineering since 1984.
His natural expertise in practical and theoretical engineering has resulted in specialty and respect, in NZ and overseas, in cranes, gymnastic equipment, building structures, machinery, large artworks, and in recent years highway sign projects such as overhead sign structures, gantries, bridge adapted sign structures and his own range of Roadsign Supports which has gained New Zealand Transport Agency approval.
Geoff has now moved away from other general engineering activities to concentrate specifically on the development of the Roadsign Supports range, and expansion into export markets, and is excited about future prospects.
He has high ethical standards of business which have been proven in 35 successful years, both in engineering supply and relationships with suppliers and customers. He is a long-term member of the Road Safety Manufacturers Association of NZ, providing input into NZ highway products. His attention to detail and practical thinking with the desire to always improve efficiency has ensured customers receive the best value and outcomes for their businesses.
Geoff and his family reside in Auckland, with interests in family, travel, fitness and the great outdoors of NZ.